Korean winters bring cold winds, but no matter how cold the weather is, there are a number of sports that visitors love to experience in the winter.
For example, climbing excursions on snow-capped mountains; camping under the sparkling starry sky and of course skiing – the outstanding sport of the winter.
Korean skiing attracts visitors from all over the world because many ski resorts are open until morning, and your joy and excitement will be extended throughout the night.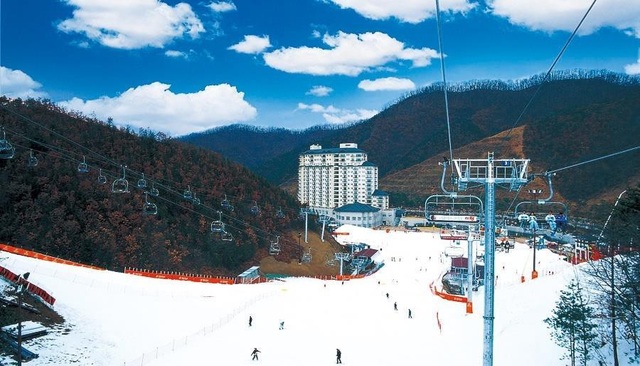 Gangwon-do, known as the winter sports capital, is a great and ideal resort when you visit Korea. There is a large amount of snow, beautiful snow-white scenery and most ski resorts are located here.
Elysian Gangchon is a resort complex consisting of rooms, golf courses and 10 ski slopes, you can enjoy sports and entertainment between nature throughout the year. The biggest advantage of Elysian Gang is that it is connected to Seoul by subway. The subway system connects people with Chuncheon and the ski resort, allowing visitors to enjoy snow viewing without traffic problems.
For first-time visitors to experience this fascinating sport, Elysian Gangchon is the perfect place because the resort has 8 slides for newbies and intermediate players, visitors who are quite familiar with the sport can try out the famous "Pegasus" ski slope as high as 1,045m and the slope is up to 300m.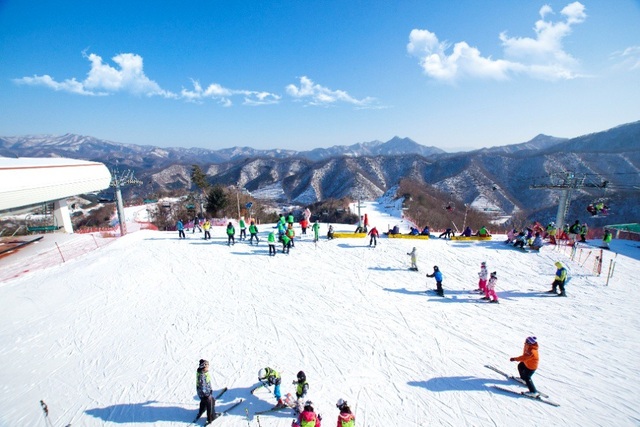 Oak Valley has a picturesque landscape with European-style amenities set amidst snow-capped mountains. Nine ski slopes are specially designed, the slope is smooth and wide enough to ensure the safety of visitors when playing. Visitors will be extremely excited when from the main slide "Gear Circle" can admire the majestic panoramic natural scenery to experience the excitement of the 1,669m Galaxy Note 4 slope.
In addition, when visiting Oak Valley, visitors can visit the SAN treasury – the museum of the countryside, a place to discover the resonance between culture and art, or participate in fireworks festivals and music concerts, an outdoor beer garden, giving visitors a unique pleasure.